Since the peak of the European refugee crisis in 2015, EU countries have responded with differing policy initiatives to manage the flow of migrants. Though the number of migrants and asylum seekers traveling to Europe has fallen from 2015 levels, EU countries are still dealing with hundreds of thousands of asylum applications and migrations per year.
The north of France and Greece's southern islands represent two extreme points of the journey migrants take from Africa and the Middle East to Europe. These countries, ill-equipped to welcome an unforeseen influx of migrants, have seen a number of makeshift camps appear. With satellite imagery, we can see the growth and, in some cases, destruction of these camps to visualize the evolution of the migrant crisis and policy responses in Europe.
France


The northern towns of Dunkirk and Calais, just across the English Channel from the UK, were two epicenters of the refugee crisis in France. Between 2006 and 2019, thousands of refugees descended upon the region in hopes of crossing the Channel by boat and moving on to England. While one camp, in the town of Grande-Synthe, has been active since 2006, refugee activity in these northern towns escalated drastically in 2015.
In January 2019, the French government released a five-point action plan to reduce Channel crossings by migrants, including initiatives to increase security, police cooperation, and anti-smuggling operations. In 2019, almost 2,500 migrants attempted to cross the Channel by boat, four times more than in 2018.
Between August 2018 and June 2019, French police enforced a zero-tolerance policy toward migrant camps by conducting more than 800 clearances in the area. We can see these evacuation policies play out in the camps of Calais and Grande-Synthe whose residents have been bussed and dispersed throughout the country following camp destruction.
A Human Rights Observers report in June 2019 found that nearly daily evictions alongside arbitrary arrests have befallen migrants in the north of France. In one year, 63,000 migrants were evacuated from camps in France, 85% of them in Calais and Grande-Synthe. In 90% of these cases, migrants or refugees were given no opportunity for alternative housing, shelter, or services.
Calais (2013–2017)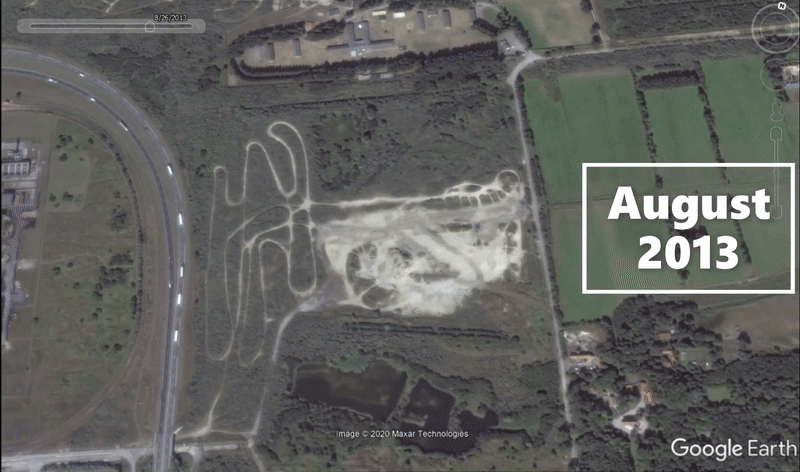 Calais' migrant camp, nicknamed "The Jungle" was evacuated in 2017 after growing rapidly since 2015.
The camp in Calais began forming around April 2015, in the height of the crisis, when a state-run center was opened. The population of the camp grew exponentially, and it started to be referred to as "The Jungle" by the media and residents.
In October 2016, this camp, housing more than 8,000 refugees, was evacuated and demolished by the French government. Although several settlements have since sprouted up in the area, large encampments have been swiftly broken up by police since the shocking conditions in the Calais camp brought worldwide attention to the plight of its residents.
Grande-Synthe (2010–2016)
The Grande-Synthe refugee camp has existed since 2006 but expanded rapidly around 2015.
Grande-Synthe, a small town near Dunkirk, was home to another camp whose poor conditions rivaled Calais. While several settlements existed as far back as 2006, the tents and makeshift shelters in this camp did not grow vastly until 2015, the latest date for which we have satellite imagery.
When the muddy, cold and dangerous conditions of the camp were made public, Grande-Synthe mayor, Damien Carême, advocated for the creation of France's first humanitarian camp. With €2.7 million from Doctors Without Borders and a contribution from the mayor's office, the new camp housed 1,300 migrants from the original camp and was built to accommodate 2,500 more with proper drainage, electricity, and plumbing.
After just a year, the camp, named La Linière, was destroyed in a fire in April 2017. Despite being reopened in late 2018, La Linière was evacuated by police a month later due to "inhumane conditions."
Greece
While France's most infamous camps have been cleared by police, dispersing migrants throughout the country and into smaller enclaves, the camps on some of Greece's southern islands have continued to grow despite policy change and police intervention.
In 2019, Greece was home to the most arrivals of migrants and refugees than any other country in Europe, roughly 59,000. It is estimated that nearly 100,000 refugees are living in Greece, with 34,000 of them on the Greek islands.
The country's many islands are a destination for African and Middle Eastern migrants coming across the Mediterranean from Libya, a major jumping-off point, or from Turkey across the Aegean Sea. Others reach Greece through its land borders with Turkey. While Greece is not the final destination for many refugees, an EU containment policy prohibits these migrants from moving freely to other EU states. With a backlog of more than 90,000 cases, Greece is slowly processing refugees, some of whom must spend more than a year living in the camps.
On Jan. 30, Greece announced a plan to build a floating barrier off the island of Lesbos, where the bulk of refugees land. This move is seen as an escalation by groups like Amnesty International, who said that it would make it more difficult and dangerous for refugees to seek safety.




Samos (2016–2019)
The migrant camp on the island of Samos, Greece more than tripled in size from 2016 to 2019.
The camp on the island of Samos began as a facility for 640 people, which was expanded with container homes, tents, and makeshift shelter to house nearly 4,000. According to Doctors Without Borders, more than half of these residents are women and children.
Greek authorities have begun initiatives to move 1,000 migrants per week to the mainland, in order to combat congestion on the islands. But for asylum seekers who were previously given refuge in Turkey, they must stay on the Greek islands if they wish to return to Turkey — rather than their country of origin — in the case their application is rejected in the EU.




Moria (2017–2019)
The Moria Camp has grown drastically in just two years, to the extent that the UN has called for its evacuation.
The Moria camp on the island of Lesbos is Greece's largest and most infamous camp. The camp is centered around the main refugee arrival center, but tents and containers serving as makeshift shelter extend far beyond the center's original boundaries. It is estimated that the camp is still home to up to 19,000 people, although the original holding capacity of the center is less than 3,000.
Although the peak of the refugee crisis occurred in 2015, the population of the Moria camp has more than tripled since July 2019, around the same time that the current, conservative government of Greece took over. Last week, large protests erupted on the island of Lesbos as camp residents manifested in response to unlivable, deteriorating conditions. Riot police used tear gas canisters to quell the protests.
The UN, on Tuesday, called for the "urgent evacuation" of the Moria camp, citing overcrowding and difficult living conditions.